9 Signs That You're Not With "The One"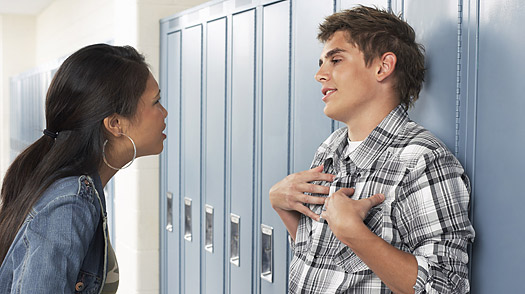 Be honest—you've planned at least one or two details of your maybe-probably-not-really impending marriage to the half-formed adult you've decided to call your "Significant Other" (I've planned an off white dress, burgundy nail polish and some politically correct spin on the concept of a "bridal party" because gender binaries are so 90s). But have you considered that maybe that doughy, nervous engineering major with astigmatism isn't The One? Never fear, Sherman Ave is here with the 9 signs to look for that signal you should drop that man-child faster than you would drop a bid at (insert name of fraternity that CollegiateACB discusses most frequently here).
1)      They're hotter than you. In every relationship, someone is settling and someone is reaching. Don't be the one who reaches because when you reach up, that weird thing happens where your shirt lifts above the waistband of your pants and everyone is either sexually aroused or immediately nauseous at the sight of your belly button and maybe your butt-crack hangs out and it is just terrible for everyone involved.
2)      They don't eat gluten. Celiac aside, every good marriage involves bread (insert wife making sandwich joke here). Also, hello, wedding cake? Anything that gets shoved forcibly into my mouth better involve gluten.
3)      You have found yourself covered (mildly or severely) covered in their bodily fluid without your express consent. Semen in my hair? Acceptable. Vomit on my suede Nikes? Peace out, baby.
4)      They can't un-ironically enjoy Kylie Minogue. She's fabulous and if you can't find your inner Australian pop star when "Can't Get You Out of My Head" is playing, you don't have a soul and shouldn't be dating humans anyway.
5)      They wear Dockers or Skechers. Doubly worse if they wear them together. If I wanted to date my high school calculus teacher, I would've dropped another button on my American Eagle polo (also unacceptable past the age of 17).
6)      They refuse to go South of the Border. I'm obviously not at all talking about Mexico for spring break.
7)      They are majoring in a subject in the Humanities. Sure, "you'll be poor in money, but rich in love!" but when you start buying generic brand toilet paper, your ass is literally going to be screaming for someone with a med school diploma.
8)      They smell like something other than soap or perfume/cologne purchased at a department store. I do not care that you had a coupon for 2 Axe Eau de Douchebag for 7 dollars. I do not care that Bath and Body Works' "Sweet Pea" is your signature scent. If it is in a plastic bottle, you're tacky and I hate you.
9)      They don't think you're the kick-assiest, funnest, hottest, most interesting, best-person-to-have-sexual-relations-with, smartest, and generally best person in the room at all times. Because, like, even if you aren't (and you're probably not), they should still think so if they've been given license to remove your underpants.